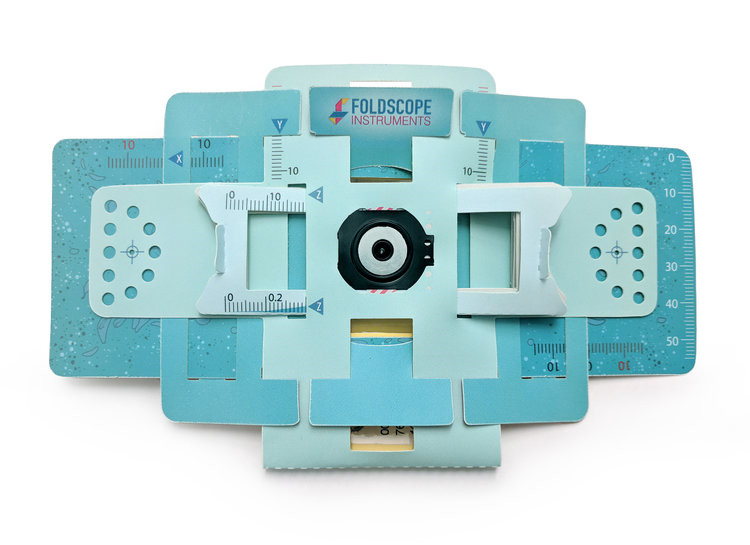 Foldscope is the ultra-affordable, paper microscope. Designed to be extremely portable, durable, and to give optical quality similar to conventional research microscopes (magnification of 140X and 2 micron resolution), Foldscope brings hands-on microscopy to new places!
Our mission is to produce low-cost scientific tools that globally expand access to science. We aim to break down the price barrier between you & the curiosity and excitement of scientific exploration.
We believe that the most important part of our company is not the tools themselves, but the communities that use them.
Visit our Community page to learn about our dynamic community the Microcosmos, discover different opportunities for educators, and visit our translations section to view & download (or even volunteer to contribute to) the various languages our materials are available in!
Manu Prakash and team are encouraging curiosity and motivating the next generation of scientists, inventors and innovators by providing a million microscopes to children all over the world. Foldscope is a $1, pocket-sized, paper-based microscope that can magnify contents more than 2,000X.
The New Yorker interview of Manu Prakash on the Foldscope Beta Version in December, 2015
Manu Prakash delivers a TED talk on Foldscope, including a live demonstration. credit: TED.
A look at the wonders of the microscopic world seen through the lens of a Foldscope.
"AN EXPERIENCE LIKE NOTHING ELSE"
- HIDAYAH YUNUS, SCIENCE TEACHER